God created women to reflect the splendor of mankind above all creation.
Written by Dr. Merle Ray on September 30, 2018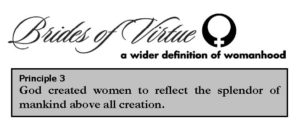 Click to view video Lesson 8 – continued
Genesis 2:20 explains the reason why woman was made and it says, "…and for Adam there was no help meet for him." Translated in its original language, this means, counterpart, to stand with, or to surround and match his front. It means,"…and for Adam there was no one meeting his image or matching his likeness." In other words, no creature was fit to stand with Adam; not one could match his superiority or correspond with the glory of man. There just wasn't anything else fitting Adam physically, intellectually, and mentally. There was nothing else like him.
Ladies, you can imagine rightly that in every way Adam was so fine. The woman was the only being created explicitly that could "front" him or "surround his front." No other creature could stand boldly up front with him. She was the only one that could stand with him matching his likeness because she was taken out of him. That's why Adam declared in Genesis 2:23, "this is now bone of my bone, flesh of my flesh: she shall be called Woman, because she was taken out of Man." There goes the lie of evolution.
It was Eve that was physically designed to match Adam's oppositeness, surround his front, and be the reflection of his image, not the apes of evolution. Hmm, wonder what would happen if we wore that on a wet t-shirt…, lol. Everybody say, "Back in the day…"
Unless married, God's women don't have to get naked to get heard. Our message still stands.
EVE. — > Not EVOLUTION.
When woman was created, Adam who was extremely intelligent recognized she had the same physical, intellectual, and mental attributes that boldly matched his. Adam understood that she was his counterpart. He connected the fact that they were not made exactly the same, for their two whole figures complimented one another in an opposing fashion causing them to fit together in one flesh. It is not that they were half man and half woman to begin with. They were already two whole complete beings. There was nothing lacking in either of them. Adam was a completed perfect man and Eve was a completed perfect woman. God had to create the woman complete because she was the only entity able to stand with man reflecting their superiority over the whole universe. You see ladies, there's nothing that God didn't already put in our make-up—physically, emotionally, intellectually, spiritually—in every way. Every time you look at yourself in the mirror, you ought to be reminded of where you didn't come from. She was complete because man was complete. Man was complete because God was complete. I believe when Adam saw Eve for the first time, he saw a reflection of his image from God and he knew at that moment just how great his completeness was.
Lesson 8 – Pondering Questions, continued
Textbook: Spiritual Identity by Dr. Merle Ray
Instructions:
Please read the section above in order to answer the question in the picture at the top of this page. Scroll down to Leave a Reply posting your answers below by the requested due date. Reply also to the comments posted by your Corporate Sisters. Once you have left your reply/comments, then click below to either proceed to the Next Discussion Forum or Return to Curriculum page.
Post your Answers below to Leave a Reply to the  following questions in the Discussion Forum:
How does knowing how God created woman resonate within you? What is the significance of the statement, "God created women to reflect the splendor of mankind above all creation?" 
.
---
---
---
Comments
---