Together men and women share dominion not identities.
Written by Dr. Merle Ray on September 30, 2018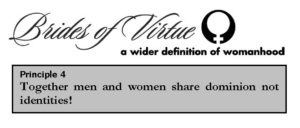 Click to View Video Lesson 8 – continued 
God is quite the artist. He neither needs nor desires our help in correcting any gender issues. God wants women to know that they are not mistakes. Since God knew us before we were even thought of by our parents, then how can we be mistakes? By design, he made women the incubators of mankind as a species, holding the key to the necessary nourishment and essential ingredients needed to protect our very existence. The first woman, Eve, was not a mistake and neither are you. But like Eve, you will have what you see and say because you are a god-like creature. If you believe your gender at birth was a mistake, then guess what? You will fulfill your own prophecy. When God cut through the flesh of man to create a gender at creation, He gave us woman. But when we cut through the flesh today supposedly "correcting our sexual identity," that is an omen. That behavior, and all sin is in direct contrast to the sacred declaration of God when He created us. And while rejecting our own identity and pursuing that of sin may appear glamorous for some, and the lifestyle of it may even seem rewarding for others, all sin is an act of "dis"grace and "dis"reverence  toward the very God that created us and gave us identity.
God loves us and that's all the more reason why He is offended if we call ourselves "correcting" our sexual identity or perverting our sexual orientation when He has already "perfected" it at creation. If you have made these kinds of mistakes of sin of any kind, guess what? We all have sinned and God still loves us. But He despises the behavior and the lies that we believe about ourselves and about Him. Only you hold the key to your destiny, and it's up to you to embrace the truth.
Just as men were created superior beings on the face of the earth, so are we as women. There's nothing like us. God made Adam a glorious specimen to look upon, but the woman, Eve, was the finer vessel. In designing woman, God did not make her any less superior than man. He made her more special, more rare – like a precious stone or jewel. In an opposite fashion than He made man, God reflected the beauty of His being on earth with mankind through a woman. He chose to show the glory of a man through a woman. I heard Ed Young of Fellowship Church in Dallas, Texas say, "They are both created superior beings, women in their womanhood, and men in their manhood." [i] I would agree with Ed. They are two whole completely different creatures, and I say: Together they share dominion, not identities. This is one of God's wider definitions of womanhood. It goes against the world's view of equal identities for men and women. God says equal in dominion, separate in identity.
When women spend time alone with God, we gain a sense of identity that makes us feel confident in whom we are, not lacking or longing to be someone else. We value ourselves based on what God has done and said about us and not the words and works of someone else. We get our definition of womanhood from God and not from society. It is because God has a wider definition of your womanhood than does society.
Remember, God cut the covenant, not man and not the woman. Woman was selected as the third party to God's covenant. God is the first party and man is the second. We are not third because we are of least importance; it's quite the opposite. We were the crowning achievement of creation for a reason and we need to understand that. Any man who pursues a woman must also understand that. I am not saying this for a man's dishonor, but for his honor. When a man disrespects or harms a woman, then he disrespects God's glory because that's just what women are to reflect. Women are created distinctively different than men for a purpose far greater than self and man put together. When we realize that, then we are no longer willing to settle for being treated as less.
__________________________________________
[i] Young, Ed. "Authority Issues Present a Godly View of Authority." EdYoung.com. Fellowship Church. Last accessed on Nov. 21, 2007. <www.edyoung.com/series/864>.
Lesson 8 – Pondering Questions
Textbook: Spiritual Identity by Dr. Merle Ray
Instructions:
Please read the section above then Scroll down to Leave a Reply posting your answers to the questions below by the requested due date. Reply also to the comments posted by your Corporate Sisters. Once you have left your reply/comments, then click below to either proceed to the Next Discussion Forum or Return to Curriculum page.
Scroll Down to Leave a Reply in the Comments, posting your answers to the following questions:
After woman was created, did God create anything else? What did God do?
From what you've read, what is meant by the words "help meet" in Genesis 2:20? Ask God to help you understand the significance of these words for your life today.
According to Scripture in Genesis 2:20, what is God's purpose for creating woman? How does this compare to how women are viewed worldwide?
From what you've read in Genesis Chapter 2, what can you tell about the character of God?
MOVE TO LESSON 9 – WHAT ABOUT YOU IS WORTH STEALING? >>>
---
---
---
Comments
---